Natural Gas Fired Chillers
SAVE MILLIONS OF DOLLARS IN LIFE CYCLE COST REPLACE YOUR ELECTRIC CHILLERS WITH
Direct Fired Absorption Chillers by Shuangliang Eco-Energy
"THE RETURN OF THE ABSORBER" Program 
Guarantees a minimum of 20% Internal Rate of Return (IRR) when replacing an electric chiller with the ENRGISTX Shuangliang Eco-Energy Direct Fired Absorption Chiller. (click for details)
Shuangliang Direct Fired Absorption Chiller High Efficiency J Series
Clean Natural Gas Fired Absorption Chillers deliver chilled water for comfort and industrial cooling applications with the following benefits
Eliminates Hydrofluorocarbon emissions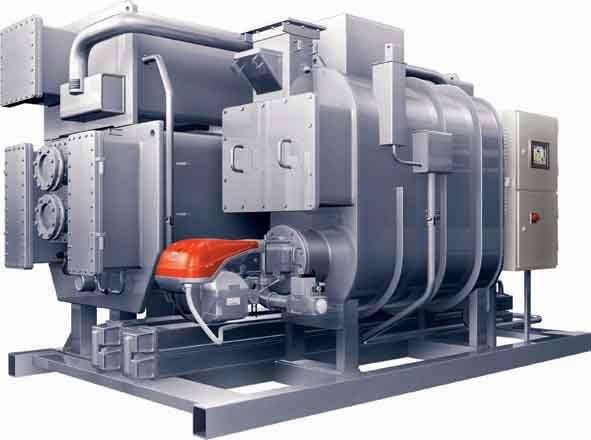 "Globally, stationary A/C systems account for nearly 700 million metric tons of direct and indirect CO2-equivalent emissions (MMTCO2e) annually. Indirect emissions from electricity generation account for approximately 74% of this total, with direct emissions of HFC and hydrofluorocarbons (HFC's) refrigerants accounting for 7% and 19%, respectively. While electricity consumption is the largest driver of GHG emissions from A/C (i.e., indirect impacts), emissions of HCFC and HFC refrigerants have a disproportionately large global warming impact relative to their mass. Addressing direct emissions therefore offers an important path to substantially reducing A/C GHG emissions." - The Future of Air Conditioning in Buildings, DOE Building Technologies Office paper published July, 2016.
HFC's are emitted in a majority of electric chillers and air conditioning equipment currently installed . HFC's are considered to be up to 15,000 times more harmful than Carbon Dioxide in our battle against global warming, and are specifically targeted by the EPA "Significant New Alternatives Policy (SNAP)" Program for replacement with acceptable new technology.
The Shuangliang Direct Fired Absorption Chiller is an approved substitute for currently installed non-compliant electric centrifugal chillers (see: https://www.epa.gov/snap/substitutes-centrifugal-chillers)
The typical payback in purchasing a new Shuangliang Direct Fired Absorption Chiller to replace an aged electric chiller is under 2 years, depending on the local Natural Gas Price and Electrics Rates.  
As an example, in Southern California, the SoCal Gas Company has a Gas Cooling Rate Structure for absorption cooling, and the electric rates from both of the electric utility providers has been rising, and is expected to continue rising in the years to come.
The following example uses 2020 utility electric and gas rates, comparing the replacement of a typical aged 500 Ton electric chiller with the Shuangliang Eco-Energy Direct Fired Absorption Chiller.
A second analysis compares the purchase of a new, high efficiency 500 Ton magnetic bearing electric chiller vs. the same size direct fired absorption chiller. The typical payback in favor of the absorption chiller is under 3 years.
500 Ton Natural Gas-Fired Absorption Chiller replacement of Aged Centrifugal Electric Chiller
| | |
| --- | --- |
| Operating Hours per Year | 4,000 |
| Utility Electric Rate – Average Including Demand Charges | 0.15 / kWh |
| Utility Gas Rate – Average | $0.45 /therm |
| Aged Electric Chiller Average efficiency | 0.80 kW/ton |
| | |
| --- | --- |
| Absorption Chiller | $ 307,500 |
| Electric Chiller | $ ZERO |
Estimated Annual Operating Cost Comparison
| | |
| --- | --- |
| Natural Gas Charges | $ 75,863 |
| Electric Pump Parasitic Load Charges | $ 6,226 |
| Total | $ 82,069 |
| | |
| --- | --- |
| Electricity Charges | $240,000 |
| Total | $240,000 |
| | |
| --- | --- |
| Annual Savings for Absorption Chiller | $157,931 |
| Simple Payback | 1.95 years |
500 Ton Natural Gas-Fired Absorption Chiller vs. NEW Mag Bearing Centrifugal Electric Chiller
A NEW Magnetic Bearing Electric Chiller costs approximately $480 per Ton.
The efficiency of these chiller is typically between 0.48 to 0.55 kW/ton at full load and less at part load. The assumption in this comparison is the chillers part load efficiency is 0.41 kW/ton.
At these conditions, the simple payback in favor of the absorption chiller is 1.8 years.
Shuangliang Eco-Energy Shanghai Dongyin Building Recognized for 20 Years of Stable Operation
Dongyin Building is located in the prime area of Shanghai's central city, overlooking the Nanjing Road business circle.
The famous American New York-based Xu Lilin Architects was responsible for the architectural design.
At that time, Shuangliang Eco-Energy had taken the lead in launching the first domestic steam-type lithium bromide absorption central air conditioner with independent intellectual property rights, breaking the monopoly of multinational companies on the Chinese refrigeration industry, and successively developed hot water-type bromine cooling units, and direct combustion units. Bromine type chillers and flue gas bromine chillers have formed a complete product series and participated in the formulation of industry standards for lithium bromide absorption chillers, establishing Shuangliang Eco-Energy as the industry leader in China's bromine chiller industry.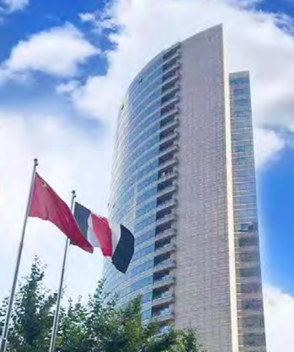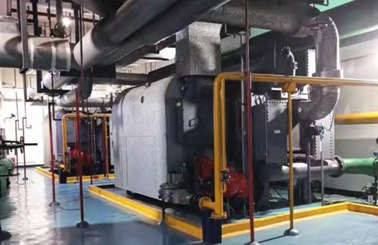 Shanghai Dongyin Building selected Shuangliang Eco-Energy to installed three 660 Ton Natural Gas Direct Fired Absorption Chillers in the year 1999.
In November of 2019, the three Shuangliang lithium bromide units of Shanghai Dongyin Building passed the professional performance test of Hefei General Mechanical and Electrical Products Testing Institute Co., Ltd., and the refrigeration capacity of the units was reported to be non-attenuated, and operating at the same cooling capacity as originally commissioned 20 years earlier.
After 20 years of stable operation of the Shuangliang Lithium Bromide unit, why is its operating capacity still comparable to the new unit? 
Designed with extreme vacuum protection

Crystallization Protection

Antifreeze tube protection

Efficient, resilient and reliable heat exchange technology

Strict production inspection measure to ensure product quality

100% helium leak inspection of the whole chiller within a unique vacuum tank, ensures leakage rate lower than 1 × 1 0  Pa · m ³ / s, which is 4 orders of magnitude lower than the Japanese Industrial Standard.

100% factory performance test to validate the COP met design requirements
Shuangliang lithium bromide unit can still maintain excellent performance after 20 years of stable operation. In addition to the quality assurance of the product itself, Shuangliang's comprehensive after-sales service management system supported the robust and resilient operation of the units.
Shuangliang is the first "after-sales service five-star" certification company in the industry and the only one in the industry with "seven-star (excellent) after-sales service system per-fection" certification company.